Profile

#1607540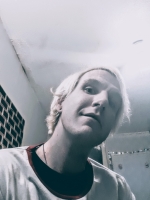 0
Bringing negative forces into the light
If you have ever felt the negative vibrations or heavy energy directed at you from another, you understand the presence of dark magic and evil intent all too well. Having a negative spell or cursed energy is similar to knowing you have a kind of spiritual cancer but no options to treat it. By using light work and exposing these parasites of darkness, you will be able to neutralize and even return the dark forces that have been inflicted upon you and develop a psychic shield to protect against spiritual retaliation.
Questions and Answers
Describe your areas of expertise.Spiritual healing and alignment, spells to lift black magic and develop a stronger and more resilient psychic force field as well as helping you find tools to easily identify these entities early on before they have a higher of chance of attacking you.

How long have you been aware of your abilities, and how have you developed them?I have experienced many spiritual attacks throughout my life and spiritual vampires and learned how to fight negative forces in the spiritual realm.

Name some specific experiences where you've used your abilities.

What can a caller expect from a consultation with you?I provide honest, intuitive analysis on your spiritual situation and help identify, and eliminate any spiritual blockages well as providing protection spells and services to help ward off these energies and keep them at bay.
My Scorecard
Average Call Rating:
0.00
out of 5
Answered Calls:
0%
Answered Messages:
0%
Favorited By:
0
Members
Personality Score:
0
out of 10
Most Common Call Reasons:
No Data to Show at this time
A call with me is frequently described as:
No Data to Show at this time
Callers often describe me as:
No Data to Show at this time
My most mentioned special talent is:
No Data to Show at this time
My Recent Reviews
I don't have any reviews yet.
My Recent Posts
I don't have any posts yet.
My Availability Schedule
I don't have a set schedule.
My Store
I am not currently selling any digital products.