Profile

#592234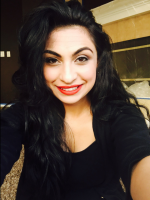 4
I can assist you in regaining direction, setting a positive path for your life in order to obtain ALL your visions and dreams!
With over 20 years of experience in the metaphysical field / world, I am here to assist and guide those who are in need of IMMEDIATE answers. . . as well as offer TREMENDOUS spiritual insight for I am a VERY honest and straight to the point reader / psychic. . . regardless of the situation. I do NOT sugar coat things. . . I keep my readings REAL! As an advisor, my purpose is to help guide you past any difficult situation as well as assist you in reaching the outcome you're seeking! A simple name and DOB is all I need to reveal what is in front of me. My aim is to provide you with the MOST and BEST information given through spirit. I also specialize in love and relationships (problems/issues), as no issue is too big or small for me to handle. I look forward to your call! God Bless!
My Scorecard
Average Call Rating:
4.00
out of 5
Answered Calls:
83%
Answered Messages:
100%
Favorited By:
1
Members
Personality Score:
6.67
out of 10
Most Common Call Reasons:
No Data to Show at this time
A call with me is frequently described as:
No Data to Show at this time
Callers often describe me as:
No Data to Show at this time
My most mentioned special talent is:
No Data to Show at this time
My Recent Reviews
letmeknow

A straight shooter. She is not afraid to tell it like it is.

Thank u so much

LovelyVI1

Limited in her reading. Sorry I just didn't connect with this adviser. I wanted specific answers.

Thank you for the review sorry I couldn't help you
My Recent Posts
I don't have any posts yet.
My Availability Schedule
Monday

12:00 AM - 12:00 PM (Unknown Time Zone)

Tuesday

12:00 AM - 12:00 PM (Unknown Time Zone)

Wednesday

12:00 AM - 12:00 PM (Unknown Time Zone)

Thursday

12:00 AM - 12:00 PM (Unknown Time Zone)

Friday

12:00 AM - 12:00 PM (Unknown Time Zone)

Saturday

12:00 AM - 12:00 PM (Unknown Time Zone)

Sunday

Unavailable