Profile

#592234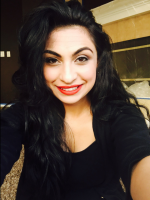 9
I can assist you in regaining direction, setting a positive path for your life in order to obtain ALL your visions and dreams!
With over 20 years of experience in the metaphysical field / world, I am here to assist and guide those who are in need of IMMEDIATE answers...as well as offer TREMENDOUS spiritual insight for I am a VERY honest and straight to the point reader / psychic...regardless of the situation. I do NOT sugar coat things...I keep my readings REAL! As an advisor, my purpose is to help guide you past any difficult situation as well as assist you in reaching the outcome you're seeking! A simple name and DOB is all I need to reveal what is in front of me. My aim is to provide you with the MOST and BEST information given through spirit. I also specialize in love and relationships (problems/issues), as no issue is too big or small for me to handle. I look forward to your call! God Bless!
Questions and Answers
Describe your areas of expertise.My areas of expertise include: psychic readings, tarot card, tea leaf and crystal ball readings, palmistry, past-life readings and much, much more! Whether you need love advice on a past relationship or just want to know what your true destiny is, I can FULFILL the answers you seek! CALL ME NOW FOR A READING! You won't be disappointed!

How long have you been aware of your abilities, and how have you developed them?Since the young tender age of eight (8), this gift has been blessed to me. Assisting my friend at the time of her father's loss, gained me the strength to deeply explore my abilities. My psychic strengths and abilities are VERY accurate and strong...you will NOT be disappointed!

Name some specific experiences where you've used your abilities.At an early age I began experiencing both negative and positive energy through a dear friend of mine (sadly, her father had passed away). Through this energy I felt at that time, it allowed me in assisting her towards combing through her difficult loss. Little did I know then, that this experience would greatly assist me through my psychic years into adulthood. Since then, my abilities have gained much more strength as well as my willingness and desire in helping others.

What can a caller expect from a consultation with you?We all need insight and guidance in our lives from time-to-time, which is why many clients turn to me for positive and straight forward (as well as uplifting) readings. Whether you need insight into your relationship or just want to know what your future holds for you, a psychic reading with me will be a powerful and life-changing experience!
My Scorecard
Average Call Rating:
3.67
out of 5
Answered Calls:
81%
Answered Messages:
100%
Favorited By:
4
Members
Personality Score:
8.00
out of 10
Most Common Call Reasons:
Looking for answers, Just wanted to talk & A specific problem
A call with me is frequently described as:
No Data to Show at this time
Callers often describe me as:
No Data to Show at this time
My most mentioned special talent is:
No Data to Show at this time
My Recent Reviews
letmeknow

A straight shooter. She is not afraid to tell it like it is.

Thank u so much

LovelyVI1

Limited in her reading. Sorry I just didn't connect with this adviser. I wanted specific answers.

Thank you for the review sorry I couldn't help you
My Recent Posts
I don't have any posts yet.
My Availability Schedule
Monday

12:00 AM - 12:00 PM (Unknown Time Zone)

Tuesday

12:00 AM - 12:00 PM (Unknown Time Zone)

Wednesday

12:00 AM - 12:00 PM (Unknown Time Zone)

Thursday

12:00 AM - 12:00 PM (Unknown Time Zone)

Friday

12:00 AM - 12:00 PM (Unknown Time Zone)

Saturday

12:00 AM - 12:00 PM (Unknown Time Zone)

Sunday

Unavailable
My Store
I am not currently selling any digital products.