Profile

#615575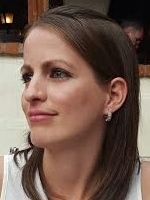 6
PSYCHIC NO B. S. , NO TOOLS, straight forward reading
I've been at this 30 years. You don't last in this field unless you are accurate. I tell exactly what I see no fluff or sugar coating. If you do a reading I promise you that there will be no B.S. I am fast and to the point. I won't waste your time or money.I have a CASAC credential. I've been a psychic consultant for 2 Fortune 500companies and a psychic consultant on 2 motion pictures. I have been the main staff writer for the metaphysical magazine Elohim for 7years. I am a 3rd Degree Reiki master and a certified Reiki Teacher. I have lectured extensively in the U.S. and Europe. I have had a successful psychic business both online and in private practice.
Questions and Answers
Describe your areas of expertise.Straight forward readings. I'm also a medium and animal intuit

How long have you been aware of your abilities, and how have you developed them?Since I was about 4years old. I have done nothing to develop them. If you are truly psychic there is nothing to develop.

Name some specific experiences where you've used your abilities.Mostly with regard to relationships, helping to heal relationships. Finding ones true love not superficial relationships. Finding out if it is time to move on. I look to see if there is any infidelity or whether the person's partner is going to take the relationship to the next level. My readings are all about relationships

What can a caller expect from a consultation with you?Accuracy and honesty, no fluff or time fillers
My Scorecard
Average Call Rating:
5.00
out of 5
Answered Calls:
86%
Answered Messages:
56%
Favorited By:
9
Members
Personality Score:
10.00
out of 10
Most Common Call Reasons:
No Data to Show at this time
A call with me is frequently described as:
No Data to Show at this time
Callers often describe me as:
No Data to Show at this time
My most mentioned special talent is:
No Data to Show at this time
My Recent Reviews
teve13

Amazing reader, will call again. Thank you for your insight XO

teve13

AMAZING...so in tune to my energy & situation. Lovely to speak with. Many blessings xo
My Recent Posts
I don't have any posts yet.
My Availability Schedule
Monday

06:35 PM - 11:35 AM EST

Tuesday

02:45 PM - 11:45 AM EST

Wednesday

12:45 AM - 11:35 AM EST

Thursday

02:35 PM - 11:35 AM EST

Friday

09:30 AM - 04:25 AM EST

Saturday

12:05 AM - 11:35 AM EST

Sunday

06:30 PM - 11:30 AM EST