Profile

#2071922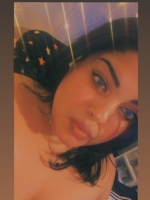 3
SEE WHAT THE CARDS HAVE IN STORE FOR YOU
if you are reading this, you have been lead here by your guides. hello, my name is Tina I have been a master tarot card reader and psychic advisor for over 17 years, with my abilities I can look into your past, present, and future. I can provide insights into all your concerns in life and help provide you with the tools on how to handle these situations, through my spirit guides I can help lead you to your rightful path. i use my clairvoyance to recover things that you didn't know about your self you will be shocked at what I am able to find, I am a very straightforward reader but I am also compassionate and caring to all I'm also non-judgemental and welcome the LGBTQ+ community with open arms. thanks for taking a minute to read this I hope to connect with you soon.
Questions and Answers
Describe your areas of expertise.my areas of expertise include love and relationship, career, soul mate searching, energy healing, spiritual guidance, clairvoyance, tarot, and speaking with those who have passed on

How long have you been aware of your abilities, and how have you developed them?I have been aware of my gift for over 25 years Having inherited my psychic gifts from my mother, I then developed my metaphysical muscle through the practice of meditation and being aware of my own feelings.

Name some specific experiences where you've used your abilities.When I was just 4 years old, I remember walking around my family home and seeing and feeling spirit — seeing spirits and animals, just as if I was seeing a living person. I now know that this is called objective clairvoyance.

What can a caller expect from a consultation with you?each caller will receive an accurate and honest reading that will tell them what they need to hear and provide guidance and clarity and closure
My Scorecard
Average Call Rating:
5.00
out of 5
Answered Calls:
69%
Answered Messages:
100%
Favorited By:
2
Members
Personality Score:
10.00
out of 10
Most Common Call Reasons:
No Data to Show at this time
A call with me is frequently described as:
No Data to Show at this time
Callers often describe me as:
No Data to Show at this time
My most mentioned special talent is:
No Data to Show at this time
My Recent Reviews
Yvetteai

Very nice but asked to many questions and she is the reader. Unusual I have never had that on this site before. I guess no connection

Hey sweetie vary sorry you wasn't satisfied with your reading you can call me anytime in the future and we can redo your reading the reason for the questions is because my spirit guides were blocked I was trying to figure out why my guides were blocked there was a lot of negative energy around the person you called about thank you hope to hear from you soon!
My Recent Posts
I don't have any posts yet.
My Availability Schedule
I don't have a set schedule.
My Store
I am not currently selling any digital products.