Profile

#1069440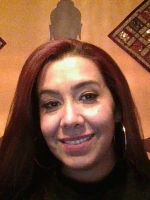 8
Master dream interperter and guider
Trying to connect with your guide? Do you feel that your dreams are sending you messages? Then let me show you what needs to be seen, because many times people see their dreams, but are not able to understand them. With the knowledge of many years exp in dream interpretation I can and will help you through envisioning the dreams that appear confusing and some times misunderstood. With many years exp, in energy and dream readings. many years exp, in dream interpretation. This reading is for the strong who are searching for the truth and ONLY the truth I will not tell you what you want to hear, I will tell you what I see.
Questions and Answers
Describe your areas of expertise.I help in all matters. Dream readings have all ways been away for me to help people unlock the signs, symbols and messages that their guides or the universe share with them

How long have you been aware of your abilities, and how have you developed them?I have been aware of my abilities for over 20 years now. I have been working with my gift since the age of 12 years old.

Name some specific experiences where you've used your abilities.I have helped people in all matters of life and family.

What can a caller expect from a consultation with you?Open, honest and accurate readings that are to the point and non judgmental.
My Scorecard
Average Call Rating:
5.00
out of 5
Answered Calls:
100%
Answered Messages:
97%
Favorited By:
8
Members
Personality Score:
9.43
out of 10
Most Common Call Reasons:
No Data to Show at this time
A call with me is frequently described as:
No Data to Show at this time
Callers often describe me as:
No Data to Show at this time
My most mentioned special talent is:
No Data to Show at this time
My Recent Reviews
Ddicks30

AMAZING !!!! 100% She honest and accurate #GodSent

Styles521

Yes you are right ! My past was enough . I ran out of funds at the moment ... greatly appreciate your time.
My Recent Posts
I don't have any posts yet.
My Availability Schedule
I don't have a set schedule.
My Store
I am not currently selling any digital products.