Profile

#1440736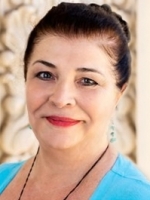 143
35 yrs of Remote Viewing experience, highly skilled Empath. You will get results with instant, detailed answers and future dates
Hi, and welcome! I am Destini a multi-generational Psychic from Central Europe. With 35 years Intuitive Coaching experience you get quick results and accurate answers from me. If you want the truth, you came to the right place. My style of reading is fast, straightforward, accurate, and honest. Are you seeking answers to questions on your career, wealth coaching, Twin Flame or Soul mate relationships?
I specialize in all readings of Love, Soulmate or Twin Relationships, Career, Family, Wealth Coaching, Emotional and Spiritual Healing, Dreams, or Coping with the loss of loved ones.
Do you want to find out if he/she is the one for you? Are you on the right career path? Need dates and short term forecast? I have the skills, tools, talent and experience to help you.
As a real Empath, you will hear the truth from me with compassion and understanding. Let's see what's in store for you! I look forward to helping you soon :)
Questions and Answers
Describe your areas of expertise.My specialties include: 1. Love, soulmate/twin or family relationships 2. Career choices and planning 3. Remove Emotional and Spiritual blockages 4. Healing through dreams 5. Coping with the loss of loved ones.

How long have you been aware of your abilities, and how have you developed them?I am a multi-generational Psychic from Central Europe. I had remote viewing and intuitive abilities from my early teen years.

Name some specific experiences where you've used your abilities.As a 5-star Intuitive Life Coach with 35 years experience, I have been helping thousands of clients of all walks of life. I started working with the famous Psychic Friends Network on Television in the 1990-s. Since then I built a large private worldwide clientele.

What can a caller expect from a consultation with you?Example - relationship question: I quickly reflect what is really going on in a relationship so the client can easily figure out ways to take action as needed. We can work together to create the best plan for optimal results. I will help the client ignite his/her very own connection to the core of the issue at hand.
My Scorecard
Average Call Rating:
4.81
out of 5
Answered Calls:
100%
Answered Messages:
100%
Favorited By:
48
Members
Personality Score:
8.98
out of 10
My Recent Reviews
Priceless50

Yes she is very nice but not impressed there were no real abilities to read for me this time.

?

Elenat

If you guys seek not only answers to your problems and concerns, but also compassion, soothing energy and real support, please call Destiny. She is simply wonderful. Pure heart, her visions have been consistent, she doesnt change her predictions. And been accurate for me, by far and giving me bigger picture understanding of my situation. Xoxoxo

Thank you so much for this heartfelt review. Blessings and Best wishes for the New Lunar year 2021! :)

Preilly

Thank you Destiny for the awesome reading!

Blessings for the New Year! :)

viduhi2

Thank you Destini <3 I haven't seen a reader as intuitive and empathetic as you. Thank you so much for giving me so much details.

Thank you so much! Have a Blessed New Year! :)
My Recent Posts
Happy Lunar New Year (CNY) to Everyone!

I am a double Pisces and an ethical Empath. You can trust someone in me who walked the walk and can show you a way out.
My Availability Schedule
Monday

05:30 PM - 10:00 PM EST

Tuesday

05:30 PM - 10:00 PM EST

Wednesday

05:30 PM - 10:00 PM EST

Thursday

05:30 PM - 10:00 PM EST

Friday

05:30 PM - 10:00 PM EST

Saturday

05:30 PM - 10:00 PM EST

Sunday

05:30 PM - 10:00 PM EST
My Store
I am not currently selling any digital products.