Profile

#311541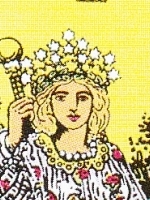 3
Let the Ancient Knowledge of the Moon Guide You
I am a psychic/medium and astrologer with over 20 years experience. I can guide you in love, money, career and family issues. I will tell you the truth you need and offer you the guidance you deserve.
Questions and Answers
Describe your areas of expertise.I am a professional astrologer, tarot reader and psychic medium. My specialty is spotting the crux of a problem. Once the problem or ( troublemaker) is found the solution is easy.

How long have you been aware of your abilities, and how have you developed them?I have always been aware of my abilities and have studied with mentors and masters in Tarot

Name some specific experiences where you've used your abilities.I have been able to see things happen before they became a catastrophe in the physical world. I also talk to those on the other side and have given much comfort to their loved ones.

What can a caller expect from a consultation with you?Callers can expect the truth with compassion and understanding. I like to get to the heart of the matter quickly to save your time and energy
My Scorecard
Average Call Rating:
2.33
out of 5
Answered Calls:
99%
Answered Messages:
67%
Favorited By:
1
Members
Personality Score:
5.50
out of 10
Most Common Call Reasons:
No Data to Show at this time
A call with me is frequently described as:
No Data to Show at this time
Callers often describe me as:
No Data to Show at this time
My most mentioned special talent is:
No Data to Show at this time
My Recent Reviews
Mzcrabby2u2

She started out nice and then she turned negative and left me down and depressed had to give a star because wish I didn't have to
My Recent Posts
I don't have any posts yet.
My Availability Schedule
I don't have a set schedule.
My Store
I am not currently selling any digital products.