Profile

#428268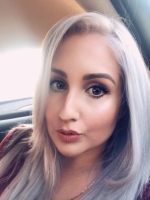 26
Specializing in love and relationships career money health success family and friends!!
I will tell you past present future answering all of your questions no matter how small or big your problem is I'm here to help you and guide you through your destiny in your lifetime
My Scorecard
Average Call Rating:
4.62
out of 5
Answered Calls:
73%
Answered Messages:
20%
Favorited By:
5
Members
Personality Score:
9.00
out of 10
Most Common Call Reasons:
No Data to Show at this time
A call with me is frequently described as:
No Data to Show at this time
Callers often describe me as:
No Data to Show at this time
My most mentioned special talent is:
No Data to Show at this time
My Recent Reviews
LookingForLove2

Thank you Leo for the insight on my situation about this man. You picked up on things that are happening in our lives that I have not even told you. Thank you and I plan to speak with you shortly.

Youniquenubian1

Thank you!

Niquebolton

I felt like she nailed everything on the spot. I didn't give her too much information & she got everything right . She's awesome!!
My Recent Posts
Give me a call I'm available right now!

Hi I'm available right now give me a call thanks....

Call me now to seek your questions and answers im available right now

I'm available call now...
My Availability Schedule
Monday

12:00 AM - 12:00 PM PST

Tuesday

12:00 AM - 12:00 PM PST

Wednesday

12:00 AM - 12:00 PM PST

Thursday

12:00 AM - 12:00 PM PST

Friday

12:00 AM - 12:00 PM PST

Saturday

12:00 AM - 12:00 PM PST

Sunday

12:00 AM - 07:30 PM PST