Angelic Angel Tarot Advisor
I am Angelic Angel Tarot Advisor. I am a generationally gifted tarot card reader. I answer specific questions. I do read cards on all aspects of career, family, love, life and spirituality. I will let you know if he/she is the right one for you and help guide you to your destiny. I am also a love guru I can help lead you to your true loving soulmate. I am also very direct. I get straight to the core of your situation, no sugarcoating 99% accuracy. If you are your confused about unanswered questions call me today. I have been reading tarot cards over 30 yrs. I also provide psychic readings. Love readings, past life regression reading aura reading. Call me today.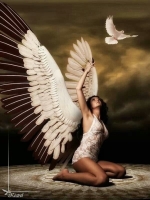 What can a caller expect from a consultation with you?You can expect a reading from a generationally gifted tarot reader. You can expect honest answers to your specific questions and insight into whatever spirit wants revealed. You can expect develop in your own gifts after calling upon me.
Name some specific experiences where you've used your abilities.I have provided local law enforcement with specific information to identify suspects on numerous occasions. I have provided lifesaving insight to situations that resolved questions on issues unanswered traumatic incidents.
How long have you been aware of your abilities, and how have you developed them?I was made aware of my gifts as a child. As I began reading by the time I could speak.
Describe your areas of expertise.I have over 30 yrs. reading tarot on career, love and relationships.
My Scorecard
Average Call Rating:
4.13 out of 5
Personality Score:
7.23 out of 10
My Recent Reviews
My Store